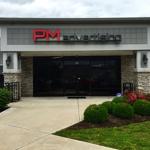 4383 Old Harrodsburg Rd. Suite 115, Lexington, KY 40513
Over the last 15 years, PM Advertising, a family-owned-and-operated company in Lexington, Ky, has stayed on the forefront of web design / development, video production, and graphic design. We are a full-service advertising agency with expertise in all marketing disciplines. The keys to our growth have been a dedication to high-quality creative and the ability to collaborate with our clients. Our technical knowledge, seasoned experience, and passion for excellence allows our team to consistently produce the best possible product, while meeting quick deadlines much of the time. We have developed a culture of creativity and a community in which every team member brings different views and experiences to enhance our ability to create work we are proud of. The relationships we build with our clients is another great source of pride for our company. Collaborating with clients allows us to provide individualized attention, execute goals, and deliver difference-making campaigns. Our team has taken start-up companies from start to finish, brought a new perspective to older campaigns, and successfully rebranded existing companies. Call us today and put the PM ADVantage to work for you. .
Languages Spoken
English, Spanish
Best PM Advertising Inc – web design
Po Box 104, Wilmore, KY 40390
Two Cups Creative offers comprehensive services in brand development, graphic design, web […]
410 Kings Daughters Dr, Frankfort, KY 40601
.